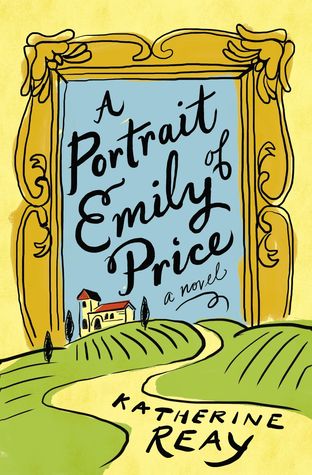 Title:
A Portrait of Emily Price
Author:
Katherine Reay
Paperback: 341 pages
Publisher: Thomas Nelson
Published date: 2016
FTC: Received from publisher to review
Katherine Reay is one of my top favorite authors. I have been having to clean out some of my book hoard because three little boys bring lots of things into our house, but I will always keep my Katherine Reay books. I even got to
interview
her once (eeep!!). I just know that whatever she writes I am going to curl up and savor - enjoying the way she describes food and books. Why do those go so well together?
Synopsis:
Art restorer Emily Price has never encountered anything she can't fix—until she meets Ben, an Italian chef, who seems just right. But when Emily follows Ben home to Italy, she learns that his family is another matter . . .

Emily Price—fix-it girl extraordinaire and would-be artist—dreams of having a gallery show of her own. There is no time for distractions, especially not the ultimate distraction of falling in love.

But Chef Benito Vassallo's relentless pursuit proves hard to resist. Visiting from Italy, Ben works to breathe new life into his aunt and uncle's faded restaurant, Piccollo. Soon after their first meeting, he works to win Emily as well—inviting her into his world and into his heart.

Emily astonishes everyone when she accepts Ben's proposal and follows him home. But instead of allowing the land, culture, and people of Monterello to transform her, Emily interferes with everyone and everything around her, alienating Ben's tightly knit family. Only Ben's father, Lucio, gives Emily the understanding she needs to lay down her guard. Soon, Emily's life and art begin to blossom, and Italy's beauty and rhythm take hold of her spirit.

Yet when she unearths long-buried family secrets, Emily wonders if she really fits into Ben's world. Will the joys of Italy become just a memory, or will Emily share in the freedom and grace that her life with Ben has shown her are possible?
My thoughts:
Are you serious? Art...Italy...Italian food....SOLD!
Emily is in art restoration (super cool) and I just fell in love with her and her story. I'll admit that unlike most of Katherine Reay's books, this took me a few more pages to get invested in the story than normal. I think it's because for the first part of the novel we get more of a quick romance. She meets Ben, falls in love, they flirt, they woo, they get married. But this story doesn't end with the marriage...it's just the beginning. Emily moves with Ben to Italy and that's where I fall in love with the story.
This novel - as with all of Katherine Reay's novels - are touted as romance but they are so much more. A Portrait of Emily Price is about love, yes, but about all the different types of love. Oh how I wish English had more words for love. Emily falls in love with Ben's family, with Ben's Italy, and comes to understand more about herself than ever before. I love the part of the novel where Emily is trying to paint and always gets stuck on the eyes. As her life and love changes, so is her ability to paint depth into her portraits.
As always, I fall in love with Katherine Reay's writing which involves multiple senses. I love her food descriptions and her inclusions of book titles. How Ben's father is always thrusting books at people instead of talking. I need to start making book lists (and food lists) as I'm reading her books. And it may sound superficial but I LOVE the book covers of her novels. Whoever does these book covers deserves a huge raise. I adore them.
Check out my reviews of her previous novels:
Dear Mr Knightly
Lizzy & Jane
And I haven't reviewed The Bronte Plot!!! What?! I must go back and do that. I adore that novel.
My interview with Katherine Reay. Totally bragging here again.
Her next novel is called The Austen Escape. Eeeepp!!
I also love that she knows author Kristy Cambron who I am rapidly becoming a fan of. I will be reviewing a couple of her novels soon. Love her books.