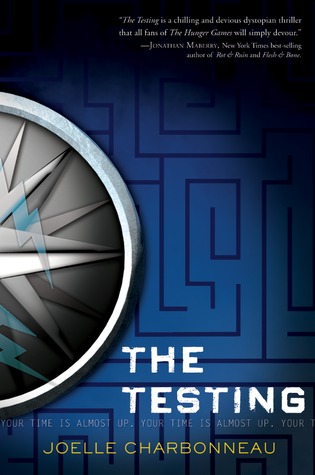 Title:
The Testing
(The Testing #1)
Author:
Joelle Charbonneau
Hardcover:
336 pages (my version ARC paperback)
Publisher:
Houghton Mifflin Books
Published date:
2013
FTC:
Requested to review from publisher
When I heard about the premise for the YA trilogy
The Testing
I knew I'd want to check it out. I love YA dystopian novels -
The Hunger Games
,
Divergent
,
Article 5
, etc. I was pretty darn impressed with
The Testing
. So far, it has the most realistic premises for it's dystopian future. I also really liked the protagonist Cia Vale. I don't normally write multiple reviews in one post, but I thought I'd give it a try.
Back of the book:
The Seven Stages War left much of the planet a charred wasteland. The future belongs to the next generation's chosen few who must rebuild it. But to enter this elite group, candidates must first pass The Testing - their one chance at a college education and a rewarding career.
Cia Vale is honored to be chosen as a Testing candidate; eager to prove her worthiness as a University student and future leader of the United Commonwealth. But on the eve of her departure, her father's advice hints at a darker side to her upcoming studies - trust no one.
But surely she can trust Tomas, her handsome childhood friend who offers an alliance? Tomas, who seems to care more about her with the passing of every grueling (and deadly) day of the Testing. To survive, Cia must choose: love without truth or life without trust.
My thoughts:
I really enjoyed this first book of
The Testing
series. I was very impressed with synopsis of the Seven Stages War that left earth pretty messed up. Survivors have rallied and made a capitol city in Kansas while colonies are made in other regions of the U.S. The goal of the survivors is to fix and rejuvenate the earth while making sure their future government doesn't make the same mistakes. Gradually throughout the testing (and more in the second book) the background unfolds. I thought this was pretty brilliant on the author's part to gradually fill in the gaps of the apocalyptic background.
I also thought the idea of the future University whose goal is to recruit only the best and brightest who will be the future leaders of the United Commonwealth. Think of The Testing as the ACT or SAT test only insanely more intense and life threatening. What appealed to me the most about this book is how scarily logical the whole thing is. While some dystopian novels have kind of a silly or far fetched big brother government, this one is very realistic. The Testing challenges are also crazily brutal. I think it's more scarily done than The Hunger Games because it's done on such an awful stage.
I also really liked Cia Vale. Growing up with five older brothers, you can see how she became the person she is. She really looks up and adores her oldest brother Zeen and her father - both are very intelligent. She's got a drive to impress and live up to her family's brilliance. While this book has a tad bit of love story between Cia and Tomas, it really isn't mushy or overly done. I think even guys would enjoy reading the story. I was definitely looking forward to reading book two of the series.
Title:
Independent Study
(The Testing #2)
Author:
Joelle Charbonneau
Hardcover:
310 pages (my version eBook)
Publisher:
HMH Books
Published date:
January 2014
FTC:
Check out eBook from the library
Back of the book:
Cia is a freshman at the University in Tosu City with her hometown sweetheart, Tomas - and thought the government has tried to erase her memory of the brutal horrors of The Testing, Cia remembers. Her attempts to expose the ugly truth behind the government's murderous programs put her - and her loved ones - in a world of danger. But the future of the Commonwealth depends on her.
My thoughts:
Hmm. This one is much harder to review. It doesn't lack in action, it starts out on a good foot that way. Think of college freshman initiations only more deadly. That and Cia and her classmates don't get to pick which area of study they want. They are placed. So while Cia Vale was wanting to do mechanical engineering, she is placed into government studies. The synopsis is also a little misleading. Cia really doesn't remember her time during the Testing...but I'd spoil the end of book one if I told you what happens.
I think the problem with book two is that I just didn't connect as much with Cia. She is basically on survival mode and a lot of the relationships and character building of book one just isn't there. The book doesn't have a whole lot of dialogue so that's always hard for me as a reader. I'll admit that halfway into the book I was debating on giving up on the series. I am glad I stuck with it though because I really liked how it ended on a cliffhanger and I'm going to check out book three. I won't be waiting on pins and needles but I do want to see how it ends. I just hope the last book gets back some of the personal tones and relationship building that book one had.