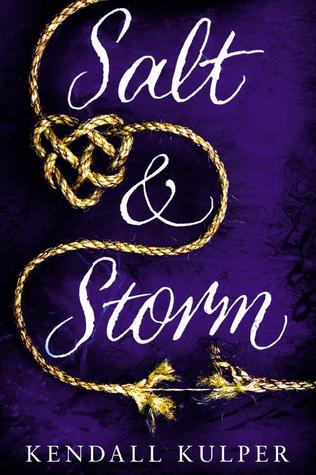 Title:
Salt & Storm
Author:
Kendall Kulper
Hardcover:
416 pages (my version ebook ARC)
Publisher:
Little, Brown Books for Young Readers
Published date:
September 23, 2014
FTC:
Requested to review from
Netgalley
My goodness, I'm not sure exactly why but I love this cover. I would have read
Salt & Storm
without even knowing the story blurb based on the cover alone. It's mid-July and this book isn't going to be published until September but I already know that
Salt & Storm
is going to make waves. (I'm laughing at my little joke.)
The story blurb:
A sweeping historical romance about a witch who foresees her own murder - and the one boy who can help change her future.
Sixteen-year-old Avery Roe wants only to take her rightful place as the witch of Prince Island, making the charms that keep the island's whalers safe at sea, but her mother has forced her into a magic-free world of proper manners and respectability. When Avery dreams she's about to be murdered, she knows time is running out to unlock her magic and save herself.
Avery finds an unexpected ally in a tattooed harpoon boy named Tane - a sailor with magic of his own, who moves Avery in ways she never expected. Becoming a witch might stop her murder and save her island from ruin, but Avery discovers her magic requires a sacrifice she never prepared for.
My thoughts:
Salt & Storm
is beautifully written and engaging. Kendall Kulper is a Harvard grad with a degree in lit and history. My kind of author! So while this book may be tagged "romance" and "ya" it can stand alone as a piece of well written literature.
As a history major myself, I adored the mid-nineteenth century era Avery Roe is from. It almost makes me want to try and read
Moby Dick
again. I have yet to travel to the shores of Massachusetts but for some reason I always think it will look and feel like this book. A girl can wish though, can't she?
While the story is set in the past and it's dubbed a historical fiction, if that genre isn't your thing you'd probably enjoy this novel. The whole story is from Avery Roe's perspective. She's sixteen and rebelling against the life her mom wants for her. While I liked the mystery around Avery's dream of her murder, her frantic search for a way to stop her murder, and her romance with Tane, I loved how the story rolled back to her relationship with her mom. I think this is a great coming-of-age story. And what sixteen year old girl isn't going to swoon over Tane. I would have.
I am looking forward to future books by Kendall Kulper.
Alternate covers I found on
Goodreads
:
What's your favorite cover?