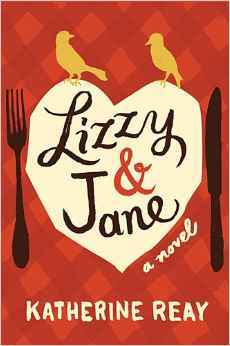 Title:
Lizzy & Jane
Author:
Katherine Reay
Paperback:
339 pages (my version ARC)
Publisher:
Thomas Nelson
Published date:
October 2014
FTC:
Received ARC to review
When I got an email asking if I wanted to review Katherine Reay's novel
Lizzy & Jane
, I jumped at the chance. I had heard raves about her first novel
Dear Mr. Knightley
(
my review
) and I absolutely love this cover. When I read the synopsis I knew I'd like it. I read
Dear Mr. Knightley
first, loved it, and then devoured this one. When the publisher asked if I wanted to interview Ms. Reay I said YES!
This is going up there as one of my favorite novels. The writing is great but more importantly it really hit me - it's about sisters and cancer and figuring out who we are and where we belong. I am going to make my sister read this one too.
Big note:
Right now the Lizzy & Jane eBook is on sale at
Amazon
and
Barnes & Noble
for .99 cents so download it now!
Back of the book:
At the end of a long night, Elizabeth leans against the industrial oven and takes in her kingdom. Once vibrant and flawless, evenings in the kitchen now feel chaotic and exhausting. She's lost her culinary magic, and business is slowing down.
When worried investors enlist the talents of a tech-savvy celebrity chef to salvage the restaurant, Elizabeth feels the ground shift beneath her feet. Not only has she lost her touch; she's losing her dream.
And her means of escape.
When her mother died, Elizabeth fled home and the overwhelming sense of pain and loss. But fifteen years later, with no other escapes available, she now returns, Brimming with desperation and dread, Elizabeth finds herself in the unlikeliest of places, by her sister's side in Seattle as Jane undergoes chemotherapy.
As her new life takes the form of care, cookery, and classic literature, Elizabeth is forced to re-imagine her future and reevaluate her past. But can a New York City chef with a painful history settle down with the family she once abandoned...and make peace with the sister who once abandoned her?
My thoughts:
There is just so much I loved about this novel. Just like Elizabeth in the story, my father passed away from cancer when I was 17. She was 17 when her mother passed away from cancer and left a gapping hole in the family dynamic. Her older sister left, her father engrossed himself in his work, and Lizzy took off to college and set up her life as far from Seattle as possible in New York City. In my life, my older sister and brother were off in college while I still had a year in high school and a gapping hole in our hearts and family. To say the book resounded is an understatement.
Now you'd think a story about loss and cancer would be a sort of a downer of a book...but it wasn't. I loved how Katherine Reay wrote the whole story, full of hope, love, and eventually reconciliation. It was honest too. No one was completely right or wrong, the sisters didn't become best friends, and very often Elizabeth didn't make the best decisions. But that's what made it work and made it real.
I absolutely loved the literature in this book. Elizabeth and Jane's mother obviously was a fan of Jane Austen and Jane finds comfort in Austen's classics to escape the chemo reality. Elizabeth uses her culinary skills to incorporate the tastes and smells of Austen's time period and local to create home cooked foods that appeal to Jane despite the cancer treatments. There were elements of literature from Dickens to Hemingway and I just absolutely loved that she mixed literature with food. I mean, how cool is that. It reminds me of how some book clubs incorporate cooking, baking, cocktails, etc with their book choice. I loved this quote in Lizzy & Jane:
Great writers and my mom never used food as an object. Instead it was a medium, a catalyst to mend hearts, to break down barriers, to build relationships. Mom's cooking fed body and soul. She used to quip, "If the food is good, there's no need to talk about the weather." That was my mantra for years - food as meal and a conversations, a total experience.
Just like her first novel
Dear Mr. Knightley
, Elizabeth's story in
Lizzy & Jane
is a modern coming of age story where Lizzy has to learn to mend old wounds and face her past so she can face her future. There is a bit of a love story between Elizabeth and an awesome neighbor and friend of Jane's but really the story is about Elizabeth discovering where she belongs. It is a beautiful novel.
And More!
I will be posting the interview and a giveaway on Valentine's Day. Check back!