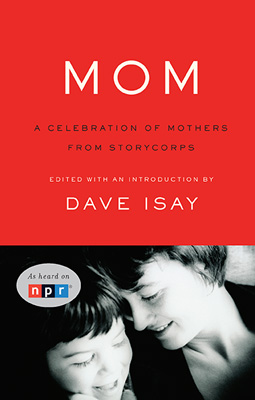 Title:
Mom: A Celebration of Mothers from StoryCorps
Editor: Dave Isay
Hardcover: 181 pages
Publication Date: April 2010
Publisher: Penguin
FTC: free from
TLC Book Tours
Most people know that Mother's Day is coming up on May 8th. So when I saw
TLC Book Tours
was hosting Dave Isay's book
Mom
, I decided to jump at the chance. I mean, any day this month I am going to be a new mom and my family is full of wonderful mothers.
The book is a collection of interviews ordinary people did through
StoryCorps
. If you've never heard of StoryCorps, go check them out. I think the idea and the results are amazing. The interviews are usually around 40 minutes and normally between a couple of people. Each interview are just a few pages long with the people's photographs at the end of the book. The results? Lovely. Heartwarming. These stories may even make you tear up a bit.
Some of the stories are about people talking about their moms and sometimes it is a mom talking to her child or partner about being a mom. The range of experiences are so fascinating. There's divorced mothers, a mother of quintuplets, mother's who've lost their child, or mother's who adopted a child. I loved the honesty and obvious love that showed through these interviews. Often it's hard to say things to someone in day to day life. There's one story of a mom who revealed a large secret to her son. It's amazing the courage some people have to say the things they want and need to say when the time is just right.
There are three sections in the book that these interviews are categorized in: Wisdom, Devotion, and Enduring Love. But I would say most of these interviews are a mix of all the categories. These are just beautiful stories. It would be very easy to suck up this book in just a couple of hours. Or you can do as I did and savor a couple of stories at a time each day.
The best part is that the book encourages you to do your own interviews, either through StoryCorps or on your own. It even lists some common questions at the back of the book to start you off. As I was perusing StoryCorps
website
, I came across this cute video so you can see an example of the types of stories in this book. This particular one is not in the book:
Q&A
from
StoryCorps
on
Vimeo
.
For a couple more StoryCorps interviews, you can
listen here
.
A cool thing is one hundred percent of the book's royalties will go to StoryCorps, which is an awesome deal. Since quantities were limited, I decided to host my own
giveaway
for the copy I have. I'd like my mom and sister to read this but I may just have to buy copies for them.
GIVEAWAY!
Do you have or know an amazing mom? Are you a mom to a wonderful child? Tell me something about your mom or being a mom and I'll choose a winner in celebration of Mother's Day.
Please leave a comment with your name and email address (or way to contact you). The contest is international and open through
May 9th
. That gives you just a week to enter! Good luck!
Dave Isay's TLC Book Tours TOUR STOPS:
Monday, May 2nd:
Reviews from the Heart
Overstuffed
Book Dads
A Library of My Own
Tuesday, May 3rd:
Silver and Grace
In the Next Room
Library of Clean Reads
Wednesday, May 4th:
Juggling Life
A Utah Mom's Life
Random Thoughts of a Lutheran Geek
Thursday, May 5th
:
A Chick Who Reads
Book Clutter
Book Nut
Friday, May 6th:
Deb's Book Bag
Suko's Notebook
One Person's Journey Through a World of Books