Title:
The Girl Who Chased the Moon
Author: Sarah Addison Allen
Hardcover: 265 pages
Publication date: March 2010
Publisher: Bantam/Random House
FTC: from the library
I adore Sarah Addison Allen's books. I've read her previous two books
Garden Spells
(
my review
) and
The Sugar Queen
(
my review
) and own them. I think I'm going to start collecting her books. They've got a bit of southern charm, usually involve something deliciously edible, and a little bit of magic. Not the Harry Potter type of magic but the you-can-almost-believe-it type. Her books are like a favorite pair of jeans or the perfect cup of coffee. Cozy and comforting, I always know I'm going to enjoy the story.
Here's the plot:
Emily is just a teenager in high school when her mother passes away. Emily must turn to the only family she has left, her grandfather, who's she's never met and is over eight feet tall and lives in Mullaby, North Carolina. As she moves into her mother's old bedroom, a mysterious room who's wallpaper changes with her moods, she discovers her mother kept many secrets about her life in Mullaby. She meets and finds a strange attraction to a boy named Win Coffey. Why does Win's family hate Emily's mother and why do the Coffey's never come out at night? In the meantime, Emily befriends a neighbor named Julia who owns a local bbq joint and bakes the most delicious desserts. Julia's plan is to only stay in Mullaby for six more months so she can save enough money to move away. Julia is also keeping secrets about her past. Do they have something to do with the handsome and charming Sawyer who is trying to convince her to stay in Mullaby?
There are so many things I love about Sarah Addison Allen's stories. I love the heroines. There's always a couple characters that you are just rooting for. Emily and Julia are just two great examples. Emily would stand up for her mother's reputation while at the same time admit that her mother may have made some bad decisions and that she'd like to help fix them. My heart just went out to Julia as she struggled with so many past hurts. I just couldn't wait for her to be happy. Win and Sawyer are just such good guys. I love that she alternates perspectives so sometimes you get the guy's point of views. I couldn't help it, maybe it's because I watched to many episodes of Lost, but I kept imagining this
Sawyer
which wasn't all that odd since the book's Sawyer was charming, blond and Southern.
Here's a quote I just had to snag:
"I'm homesick all the time," she said, still not looking at him. "I just don't know where home is. There's this promise of happiness out there. I know it. I even feel it sometimes. But it's like chasing the moon - just when I think I have it, it disappears into the horizon."
This one might almost tie with
Garden Spells
as my favorite Sarah Addison Allen book.
And I just can't help adoring her books' covers. My favorite is the cover above even though I wish it was more in the same style as her previous two. I finally found a version that had that style but I was a bit disappointed. Here it is: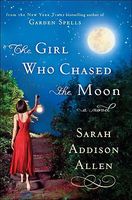 The paperback is gorgeous too. The butterflies make sense too if you read the book.
And this one is ok. It's my least favorite:
O wow! As I was looking up her
website
, I think I fell in love with her books even more. She has a page devoted to the saga of the book cover. Just
head over there
to see all the different ones. You can even find recipes for Julia's cakes. Love it!
Also Reviewed By:
Bookfoolery and Babble
Queen of Happy Endings
Stephanie's Written Word
Lit and Life