Move over
Hunger Games
and
Divergent
and make way for
Legend
. If you haven't checked out Marie Lu's Legend series you must pick it up. I really enjoyed
The Hunger Games
(
my review
) and
Divergent
(
my review
) ...BUT...I had tiny problems with both. I was a little let down by the last book in
The Hunger Games
series - although I am loving the movies so maybe it'll make up for that. And
Divergent
- if there's a series that makes you want to chuck a book it's the last book in that series. Seriously. So I was a tad skeptical to get sucked into another series that would let me down. Marie Lu definitely doesn't. I adored and loved all three of the books in this series. And the fan art! Check out Marie Lu's
Facebook page
or
Pinterest page
for the series and you can find some pretty coolstuff. I would love to see this series as a movie. I can not wait to read her new series
The Young Elites
.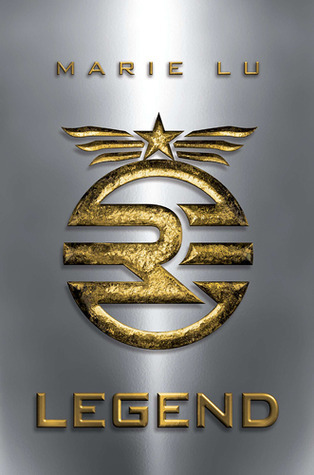 Legend (Book One)
Back of the book:
What was once the western United States is now home to the Republic, a nation perpetually at war with its neighbors. Born into an elite family in one of the Republic's wealthiest districts, fifteen-year-old June is a prodigy being groomed for success in the Republic's highest military circles. Born into the slums, fifteen-year-old Day is the country's most wanted criminal. But his motives may not be as malicious as they seem.
From very different worlds, June and Day have no reason to cross paths - until the day June's brother, Metias, is murdered and Day becomes the prime suspect. Caught in the ultimate game of cat and mouse, Day is in a race for his family's survival, while June seeks to avenge Metias's death. But in a shocking turn of events, the two uncover the truth of what has really brought them together, and the sinister lengths their country will go to keep its secrets.
My Thoughts:
I would totally love to do a re-read of this series. I just fell for June and Day. What an awesome hero and heroine Marie Lu conjured up. June - the soldier and Day - the rebel. I liked the back story - realistic enough to understand and believe but not really necessary to divulge a whole lot to the back story. (More info is filled in later in the series.)
Prodigy (Book Two)
Back of the Book:
Injured and on the run, it has been seven days since June and Day barely escaped Los Angeles and the Republic with their lives. Day is believed dead having lost his own brother to an execution squad who thought they were assassinating him. June is now the Republic's most wanted traitor. Desperate for help, they turn to the Patriots - a vigilante rebel group sworn to bring down the Republic. But can they trust them or have they unwittingly become pawns in the most terrifying of political games?
My thoughts:
You know how sometimes book two just kind of...disappoints? Well not in this series. It wasn't a rehash of book one and it definitely progressed the story in a necessary way. No worries. I won't give away any spoilers but it's one you will definitely be reading after
Legend
, gobbling up, and then grabbing the third book.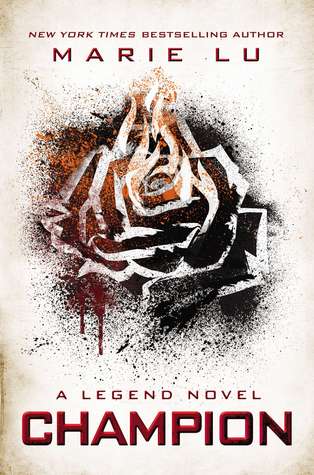 Champion (Book Three)
Back of the Book:
June and Day have sacrificed so much for the people of the Republic—and each other—and now their country is on the brink of a new existence. June is back in the good graces of the Republic, working within the government's elite circles as Princeps-Elect, while Day has been assigned a high-level military position.
But neither could have predicted the circumstances that will reunite them: just when a peace treaty is imminent, a plague outbreak causes panic in the Colonies, and war threatens the Republic's border cities. This new strain of plague is deadlier than ever, and June is the only one who knows the key to her country's defense. But saving the lives of thousands will mean asking the one she loves to give up everything.
With heart-pounding action and suspense, Marie Lu's bestselling trilogy draws to a stunning conclusion.
My Thoughts:
The ending? Perfect. Well done Ms Lu. It wasn't realistic and disappointing (ahem Hunger Games series) because let's be honest, I'm reading a dystopian YA and I don't want reality. It wasn't tragic (ahem Divergent series) because I want, well, not a happy ending but something happy right? Without spoilers, the perfect way to have a happy ending without having one. You'll just have to read it.