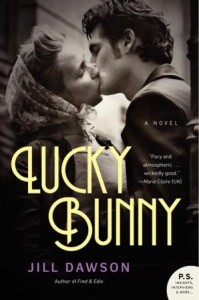 Title:
Lucky Bunny
Author:
Jill Dawson
Paperback:
349 pages
Publisher:
Harper Collins
Published date:
October 30, 2012
FTC:
Received to review for
TLC Book Tours
Big oops. I was supposed to have this posted yesterday but with the big Presidential elections going on and other fun stuff it totally escaped me. I even sucked down and finished a week ago, so that tells you something about how much I enjoyed reading
Lucky Bunny
. If you are interested in a story sort of like
A Tree Grows in Brooklyn
- but instead of going to college the character turns to a life of crimes - well this is a story for you.
Back of the book:
Queenie Dove is a self-proclaimed genius when it comes to the quintessential arts of survival and thievery. Daring, clever, and alluring, she has spent a lifetime developing the skills of an accomplished thief. Born into a criminal family in London's East End during the Great Depression, and trained by a group of women shoplifters during the Blitz, Queenie commits exploits ranging from petty street crime all the way to far more glamorous - and lucrative - heists. But giving birth to a daughter will make Queenie finally try to go straight - until the opportunity to take part in one last, audacious robbery tempts her back to the life of danger and excitement she once lived to the fullest.
Told in Queenie's captivating and singular voice, this richly colorful story and tis provocative denouement are steeped in questions of character and morality. Is Queenie a woman sinned against, or a sinner herself? Is she wicked through and through? In the spirit of
Moll Flanders
,
Lucky Bunny
is a vivid tale of trickery and adventure - and one which has a darker undertow of pain and heartbreak than its heroine prefers to admit to herself. Yes, luck often favors the Queen of Crime, but that is only part of her story.
My thoughts:
This story packs a lot of punch and was fabulously written. It's one of those books that had me
GoodReading
(I'm coining that phrase) her backlist, a lot of award winning or nominated books among them.
Lucky Bunny
is getting a lot of nods as well.
The story is told from Queenie's perspective as she looks back in her life - and she tells you straight up that while she might embellish, the major facts are there. Queenie likens her story more to
Moll Flanders
but I couldn't help but think
A Tree Grows in Brooklyn
. I was surprised that quite a bit of the book centered around her as a child. But that was what sucked me into the story and made me really enjoy the book -- I adore young Queenie. Like Francie Nolan, Queenie looks out after her younger brother, adores her often abusive and jailbird father, and has to be a mother in place of her own absentee alcoholic one. So while no one forced her to turn to crime (and she was quite brilliant so she could have gone the way of Francie Nolan) I totally sympathized and understood why she went that direction.
It's no surprise that I love history -- so young Queenie's life in Blitz London was fascinating. We see her getting shipped out to the country with her brother. We see her coming back and eking her existence amidst the bombs, stealing and living quite well with the Green Bottles, an absolutely fabulous group of thieving ladies who helped raise Queenie. There's also the tragic incident of the Bethnal Green tube station which I had never even heard of!
My only disappointment with the book is that after I had so much fun with the first part, the story sort of tapered off after that. Which is funny because I've read a few reviews where some people had the opposite problem - slow start and then it picked up. So it's all about perspective. I also wanted more about the
last heist
(SPOILER if you click on link) which again was a historical event I had never heard of and was only regaled in the last twenty pages. So fascinating though!
I think this book could appeal to a lot of different areas: if you like history, if you like social history or women's history, if you like fascinating character studies, or if you just like being entertained by a good yarn....
Extras:
I found a different cover. Isn't this gorgeous! Which one do you like better?
You can also listen to an
audio interview
of Jill Dawson on the BBC Radio, Women's Hour
Jill's Tour Stops