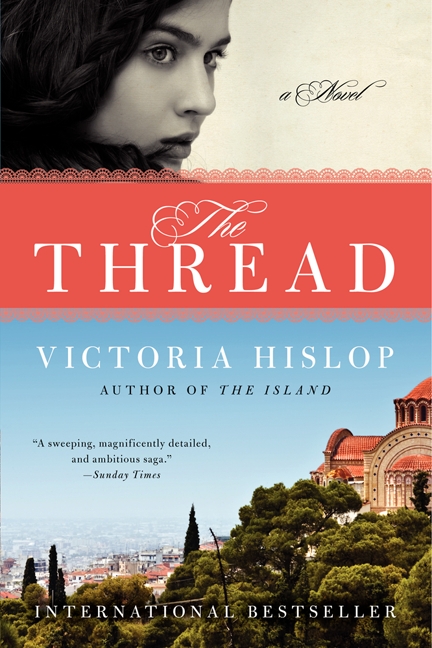 Title:
The Thread
Author:
Victoria Hislop
Paperback:
390 pages (ARC version)
Publisher:
Harper Paperbacks
Published date:
July 10, 2012
FTC:
Received to review for
TLC Book Tours
When I heard TLC Book Tours was promoting Victoria Hislop's new book
The Thread
, I was excited to be able to join in. A few years ago I had read and
reviewed
her novel
The Return
and really enjoyed the history and story. I've been meaning to read her first book
The Island
which I've heard is pretty amazing too. I LOVED
The Thread
. I am now an official Victoria Hislop fan. This is exactly how I love my historical fiction.
Back of the book:
Thessaloniki, Greece, 1917: As Dimitri Komninos is born, a fire sweeps through the thriving multicultural city where Christians, Jews, and Muslims live side by side. It is the first of many catastrophic events that will forever change this place and its people. Five years later, as the Turkish army pushes west through Asia Minor, young Katerina loses her mother in the crowd of refugees clambering for boats to Greece. Landing in Thessaloniki's harbor, she is at the mercy of strangers in an unknown city. For the next eighty years, the lives of Dimitri and Katerina will be entwined with each other and—through Nazi occupation, civil war, persecution, and economic collapse—with the story of their homeland.
Thessaloniki, Greece, 2007: A young Anglo-Greek hears his grandparents' remarkable story for the first time and understands he has a decision to make. For decades, Dimitri and Katerina have looked after the treasures of those who have been forced from their beloved city. Should he become their new custodian? Should he stay or should he go?
My thoughts:
I love historical fiction that sweeps me through the generations and makes me learn all about a country and city that I don't have much knowledge of. The story starts out with Dimitri and Katerina Komninos telling their college-age grandson their history and why they won't ever leave Thessaloniki. Then I was swept right into the city of Thessaloniki. It's 1917 and WWI is raging across the continents. Thessaloniki literally catches on fire and burns. A few years later and across the Aegean Sea, the city of Smyrna is caught in the chaos and is burning too. Because of war, the Greeks are being expelled from Asia Minor and Muslims are being expelled from Greece. Katerina is from Smyrna and loses her mother in the crowd.
From those gripping first scenes I was hooked. It's Dimitri and Katerina's story and I fell in love with them both, but it's also the story of everyone living around them - family, friends, and Thessaloniki. If you want a quick love story then this is not the book for you. Katerina is just about to turn the corner of adulthood, become an acclaimed embroiderer (get it, The Thread?) and just reacquaint herself with her childhood friend at about page 150. But this is what I love about this book - it's more about the city of Thessaloniki itself as the characters live through the city's epic moments durning the 20th century.
If you love historical fiction and armchair traveling, it doesn't get much better than
The Thread
. Beautiful.
Victoria's Tour Stops