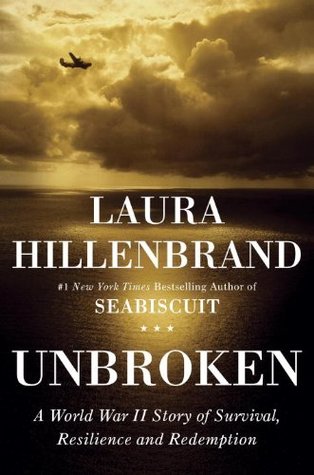 Title:
Unbroken:
A World War II Story of Survival, Resilience and Redemption
Author:
Laura Hillenbrand
Hardcover:
473 pages (my version ebook)
Publisher:
Random House
Published date:
2010
FTC:
Check out eBook from the library
Wow. I had been meaning to check out this book now for a long while but it seriously ALWAYS has a hold at the library and being a stay at home mom, let's face it, I'm cheap right now. Finally. FINALLY, I got on the waiting list for the eBook and I had 14 days to read it. I literally sucked this book down and it's one of those reads that make books afterwards just kind of pale in comparison. If I was a writer, this is how I'd want to write.
Seabiscuit
, the book or movie hasn't really interested me (never seen or read) but now I am going to have to read it because she wrote it. I am also going to have to see
Unbroken
the movie but I'm sure I'll end up saying the book was much better. Have you read the book or seen the movie?
Back of the book:
On a May afternoon in 1943, an Army Air Forces bomber crashed into the Pacific Ocean and disappeared, leaving only a spray of debris and a slick of oil, gasoline, and blood. Then, on the ocean surface, a face appeared. It was that of a young lieutenant, the plane's bombardier, who was struggling to a life raft and pulling himself aboard. So began one of the most extraordinary odysseys of the Second World War.

The lieutenant's name was Louis Zamperini. In boyhood, he'd been a cunning and incorrigible delinquent, breaking into houses, brawling, and fleeing his home to ride the rails. As a teenager, he had channeled his defiance into running, discovering a prodigious talent that had carried him to the Berlin Olympics and within sight of the four-minute mile. But when war had come, the athlete had become an airman, embarking on a journey that led to his doomed flight, a tiny raft, and a drift into the unknown.

Ahead of Zamperini lay thousands of miles of open ocean, leaping sharks, a foundering raft, thirst and starvation, enemy aircraft, and, beyond, a trial even greater. Driven to the limits of endurance, Zamperini would answer desperation with ingenuity; suffering with hope, resolve, and humor; brutality with rebellion. His fate, whether triumph or tragedy, would be suspended on the fraying wire of his will.

In her long-awaited new book, Laura Hillenbrand writes with the same rich and vivid narrative voice she displayed in Seabiscuit. Telling an unforgettable story of a man's journey into extremity, Unbroken is a testament to the resilience of the human mind, body, and spirit.
My thoughts:
I think it would be so hard to write a really interesting and good non-fiction story. Often they can be pretty dry and boring. Either that or the author has to turn the story into fiction just to liven it up. I think this was the perfect non-fiction book. The author put in an astonishing amount of research and work into writing this interesting and fluid story. The story was equally amazing and unbelievable. One of those truths are often more strange and interesting than fiction. Take any part of this story and it would be an amazingly good tale on it's own: poor delinquent becomes Olympic track star, man survives plane crash and survives on raft for over a month, man survives POW cruelty. It is truly an amazing story.
It's hard to write something new about this book. I mean I'm sure you've heard all about it. But I now know why you'll probably never find a used copy. If I had bought one it would be lent out to quite a few people and I'm still debating buying copies for my sister, mom, husband, brother...you get the picture. It's that good. I wish my dad was alive to read this one. He was an amazing runner and was a history and WWII buff. I am sure he had heard of Louis Zamperini since Mr. Zamperini wasn't an unknown until Ms. Hillenbrand's book.
Enough of me blathering. Buy this book.